July 2022: Edwards Gibson report featured in 'The Lawyer' Horizon daily newsletter 'If you want to switch firms, do it now'
July 2022
The Lawyer published an article written by Matt Byrne in their Horizon daily newsletter titled 'If you want to switch firms, do it now' on 8th July 2022. The Horizon draws upon data and research to report emerging trends, providing "data-rich, strategic food for thought about competing in the business of law." The article explores the continued buzz in the lateral recruitment market, utilising figures collected from Edwards Gibson's 2022 lateral recruitment market analysis so far. The article also used figures from Edwards Gibson's Partner Moves articles since 2018 to comment on the increase in lateral hiring compared to pre-pandemic levels.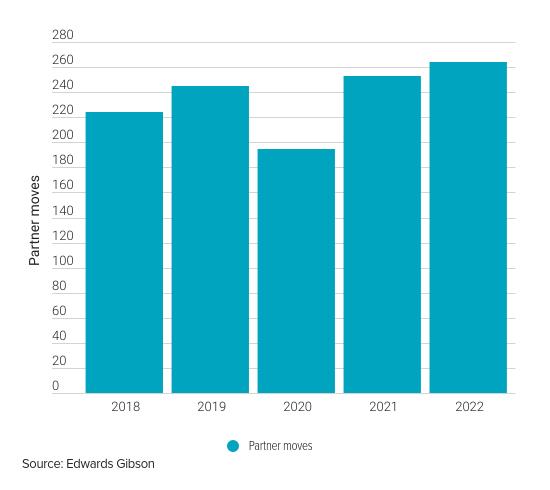 'According to analysis of the lateral hiring market by recruitment consultants Edwards Gibson, H1 saw UK firms hire 264 partners.This is a record if you discount the first half of 2017, when the figure was inflated due to the high number of partners on the market following the insolvent collapse of King & Wood Mallesons' European verein. …
In its report, Edwards Gibson states that lateral hiring activity has already begun to slow, although it's only fair to point out that due to the often very long lead in times on lateral partner hires, with some partners having to stick to a 12-month notice period, "the statistics will lag".'
Read the article here (subscription required).
To read the latest edition of our Partner Moves newsletter, click here.