Download the full Partner Moves Issue here >>
Welcome to the 77th edition of Law Firm Partner Moves in London, from the specialist partner team at Edwards Gibson, where we look back at announced partner-level recruitment activity in London over the past two months and give you a 'who's moved where' update.
This bi-monthly round up contains 117 partner moves, a staggering 36% up on the 86 we saw for the same period last year (and 26% and 34% up on the cumulative five-year and ten-year averages for the same period - 93 and 87 respectively). Unsurprisingly, the statistics are inflated by the collapse of Axiom Ince; a 100 plus partner national law firm - with a penchant for acquiring other failed law firms - which finally collapsed in October ejecting scores of hapless partners and forcing them to rapidly find new homes.
Nevertheless, even if we exclude the Axiom Ince émigrés - which make up 15% of the total (see below) - this edition would contain 100 partner moves, still 16% higher than this time last year and up 11% and 18% on the cumulative five-year and ten-year averages for the same period.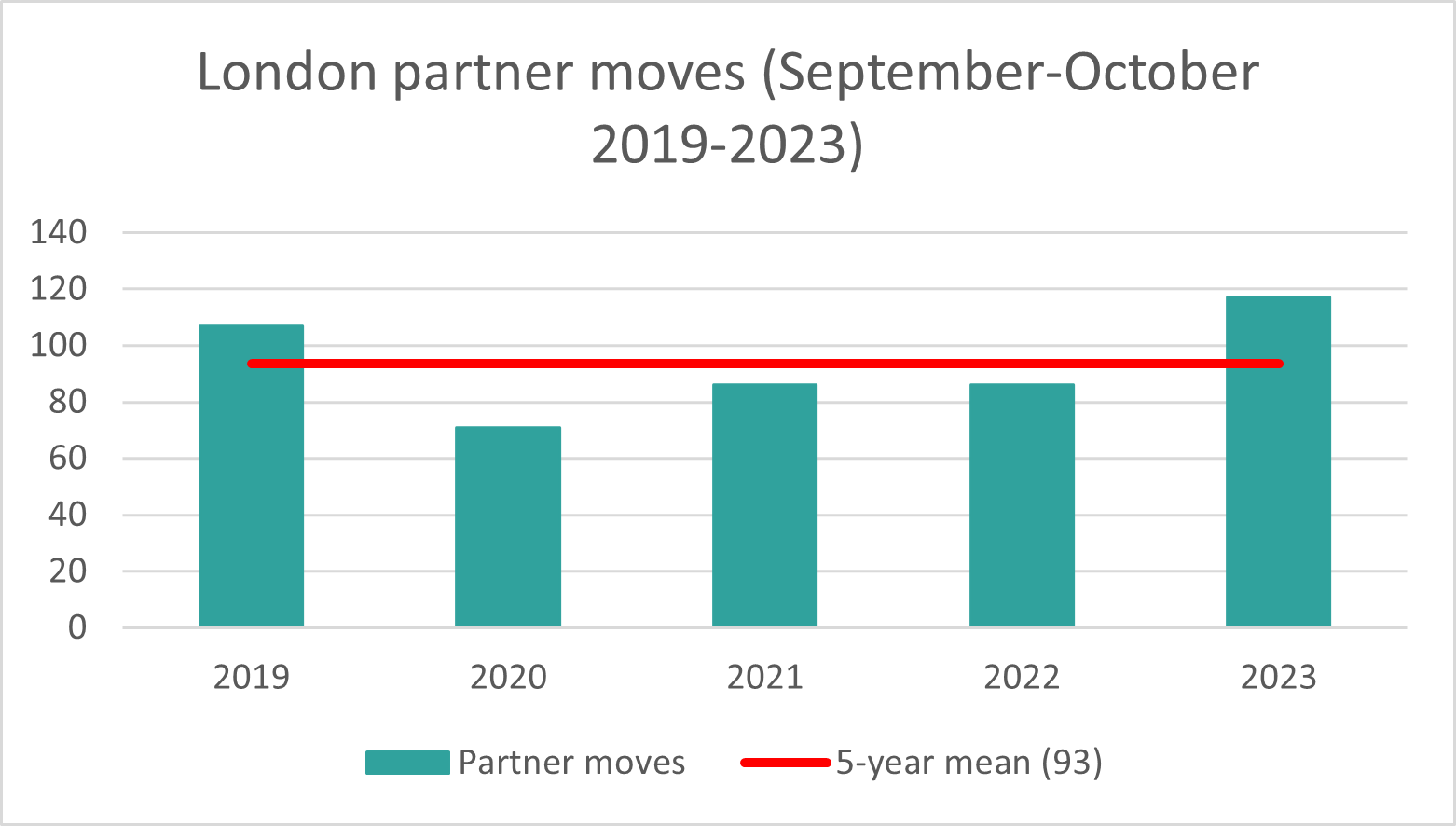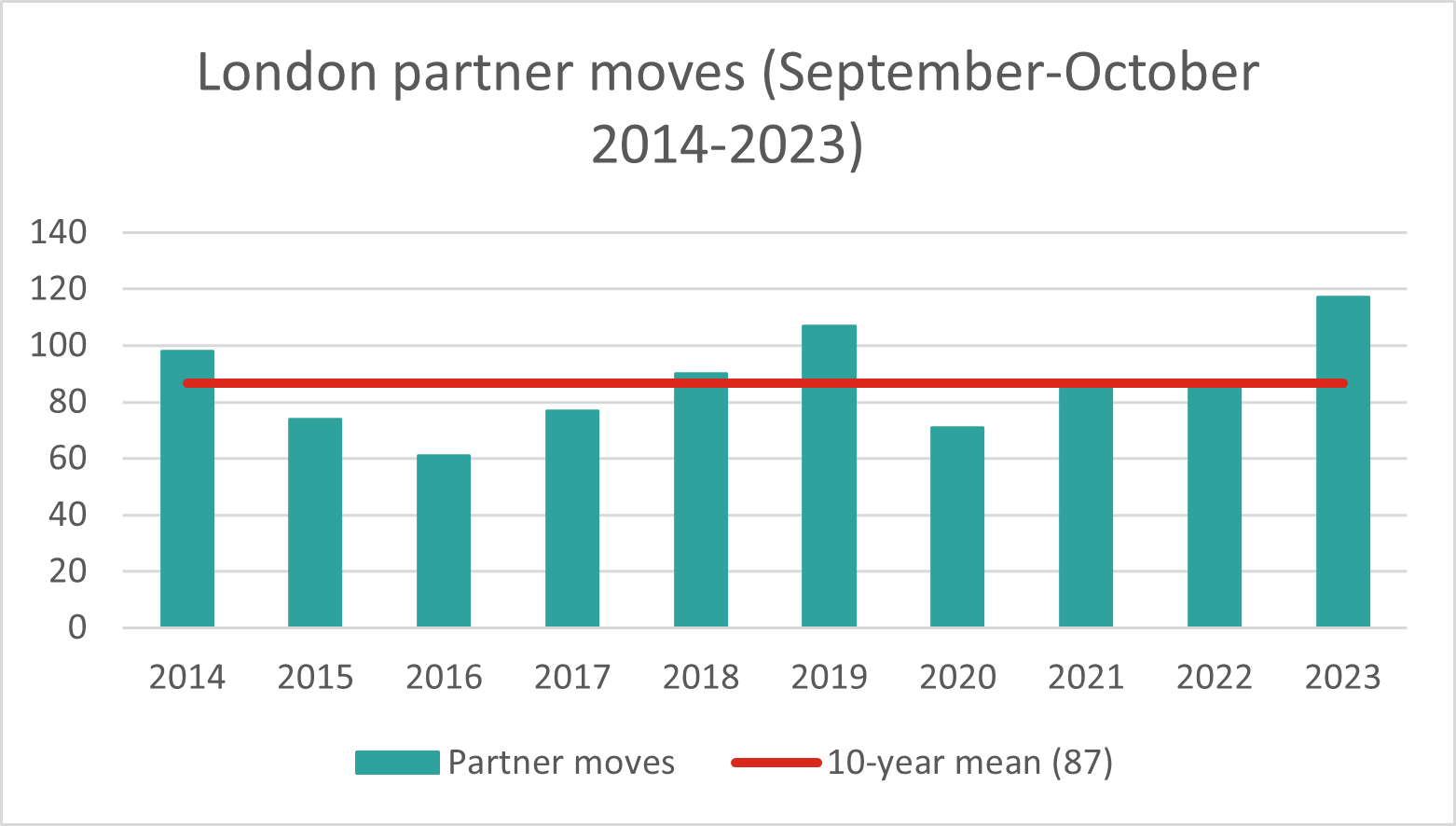 The $20 million lateral club
The most dramatic news during the period was the well telegraphed follow-on raid by white shoe firm Paul Weiss on Kirkland & Ellis for an additional five laterals (this time in corporate, tax, and finance) to add to the four it had already bagged in August. Nevertheless, as if to show it has nothing personal against its Chicago rival, this round-up also sees the New York outfit snatch a corporate lateral from Linklaters. Having suffered an enormous blow to its London reputation, and in an attempt to restock its leverage finance team with a near peer offering, that traditional apex predator of the legal recruitment world turns its big guns on Wall Street rival Simpson Thacher to steal a storied, and reputedly eye wateringly expensive, two-partner team in the form of Ian Barratt and Sinead O'Shea. Indeed, since August the internecine warfare between Paul Weiss and Kirkland & Ellis, has reportedly netted at least three of the laterals who have moved to those two firms in London, annual compensation of c. $20 million apiece.
Top partner recruiters in London September – October 2023
| | | |
| --- | --- | --- |
| | 6 | (6 laterals) |
| | 4 | (3 laterals) |
| | 4 | (3 laterals) |
| | 4 | (2 laterals) |
| | 4 | (3 laterals) |
| | 3 | (1 lateral) |
| | 3 | (3 laterals) |
| | 3 | (2 laterals) |
| | 3 | (2 laterals) |
| | 3 | (2 laterals) |
| | 3 | (2 laterals) |
In addition, sixteen firms, including three magic circle outfits, hired two partners apiece: Allen & Overy, Baker McKenzie, Birketts, Brown Rudnick, DAC Beachcroft, Dentons, DLA Piper, Eversheds Sutherland, Freshfields, Gateley Legal, Herbert Smith Freehills, Horwich Farrelly, Kirkland & Ellis, Linklaters, Simmons & Simmons and Stephenson Harwood.
The two most sizable multi-partner team moves this edition were: Paul Weiss' acquisition of a five-partner corporate, tax, and finance team from Kirkland & Ellis (see above); followed by Collyer Bristow's adoption of a four-partner real estate and construction team from the collapsed Axiom Ince.
Six firms hired two-partner teams: Gateley Legal (international arbitration and commercial litigation from Clifford Chance); Horwich Farrelly (insurance from Axiom Ince); Irwin Mitchell (white-collar crime and regulatory from Axiom Ince); Kirkland & Ellis (finance from Simpson Thacher); and Memery Crystal (real estate and property finance from Howard Kennedy).
Highest firm attrition rates in London (laterals only) September – October 2023
| | |
| --- | --- |
| | 16* |
| | 10 |
| | 3 |
| | 3 |
*Only records moves made in accordance to our methodology.
In addition, ten other firms lost two partners apiece: Armstrong Teasdale, Cadwalader, DLA Piper, Latham & Watkins, Lewis Silkin, Memery Crystal, Morgan Lewis, Pinsent Masons, Reed Smith and Simpson Thacher.
Ince & Out – the final collapse of Axiom Ince
The collapse of Axiom Ince has forcibly dumped over a hundred partners onto the market nationwide. Whilst a plethora of law firms have opportunistically scooped up refugees from the flotsam and jetsam (with some firms purportedly acquiring multiple lateral partners in London), many of the hires do not meet the requirements for inclusion in this publication set out in our methodology. This is either because they work in practice areas that we do not record, or because, in our assessment, the partners are not in fact based in London. As such, in this edition, we have recorded only 17, out of the nearly 30 that have been announced.
With Axiom Ince having been made up of a smorgasbord of failed law firms prior to its own collapse - notably Ince & Co (a shipping, insurance, energy and aviation blue blood), Gordon Dadds (a west end private client flavoured outfit) and Plexus Law (an insurance specialist), we have recorded all moves from organisations eventually eaten up by the now-defunct firm as moves coming from Axiom Ince.

Also of note in this edition
33% of all hires (39) were female
26 lawyers (22%) were elevated to partnership from other law firms
6 firms hired from in-house: CMS (from Binance); (DLA Piper (from PGIM); Freshfields (from the Competition and Markets Authority); Howard Kennedy (from London Wall Lending); Lewis Silkin (from unspecified) and Morgan Lewis (from the Information Commissioner's Office)
Please do not hesitate to contact us if you would like to discuss this article or any other aspect of the market in more depth.
Scott Gibson, Director scott.gibson@edwardsgibson.com or +44 (0)7788 454 080
Sloane Poulton, Director sloane.poulton@edwardsgibson.com or +44 (0)7967 603 402
Please click here to understand our methodology for compiling Partner Moves
Download the full Partner Moves Issue here >>
If you would like to subscribe to our Partner Moves Newsletter, email us at support@edwardsgibson.com