August 2022: EG Director extensively quoted in Legal Business alternative law firms article
August 2022
Edwards Gibson Director, Scott Gibson, has been quoted in Legal Business' article published on 26th August 2022 written by Charles Avery titled 'Keystone Law: Our Little Book' (subscription required).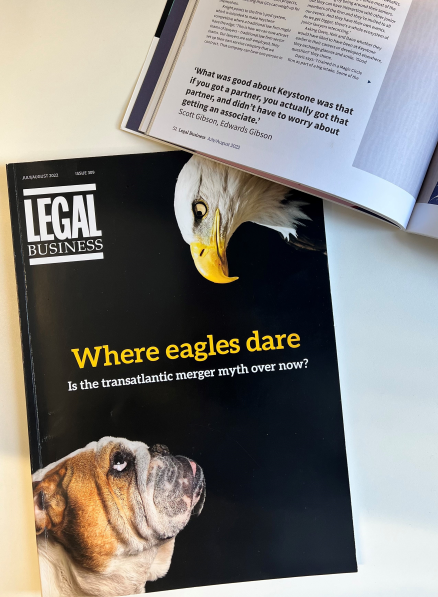 The article shines a spotlight on alternative virtual law firm, Keystone Law, exploring its appeal compared to the traditional law firm model and analysing its successes to date.
Scott was asked to give his view on the appeal of the alternative firm: "Let's say you've got a practice of £800,000, which is not a particularly large practice by City law firm standards, but at somewhere like Keystone you can probably earn £500,000 or more, depending on how much of it you're keeping yourself or referring to other partners. If you're able to do that, the chances of getting that kind of money in a conventional law firm is close to zero."
Edwards Gibson has itself instructed Keystone Law on its own internal matters and Scott weighs in with his opinion as a client: "We changed our set up from a partnership to a corporate a while back. It was a few thousand pounds worth of work, so not anything too massive, but what was good about Keystone was that if you got a partner, you actually got that partner, and didn't have to worry about getting an associate."
The article concludes with a big picture view of whether Keystone Law will shake up the legal sector. Scott comments: "Is it a threat to big law? I don't think it is. I don't think that is what it's trying to do."
To read our full bi-monthly report, including further insights into the market, a breakdown of each of the London partner hires made between July and August, and the overall statistics compared to previous years of partner hiring, click here.