January 2023: Horizon by The Lawyer quotes Edwards Gibson's 72nd Partner moves in "The magic circle is going on the offensive"
January 2023
The Lawyer published an article written by Matt Byrne and Katy Dowell in its Horizon Daily newsletter titled, 'the magic circle is going on the offensive' on 31st January 2023. The article has shined a light on a key trend spotted by our director, Scott Gibson, which showed that in 2022 the magic circle firms (Allen & Overy, Clifford Chance, Freshfields, Linklaters and Slaughter & May) were on a hiring spree, welcoming 21 partners – an all-time record and a number far, far greater than the 10-year average of around 8 per year.
The article takes a look at the magic circle firms and their recent hirings from statistics compiled by Edwards Gibson of announced partner moves over the past 10 years (2013-2022). These statistics were first noted in our 72nd edition of London Partner moves, which shows a hyperactive magic circle, crowning Allen & Overy as the most acquisitive firm of them all - welcoming no fewer than 7 partners in 2022.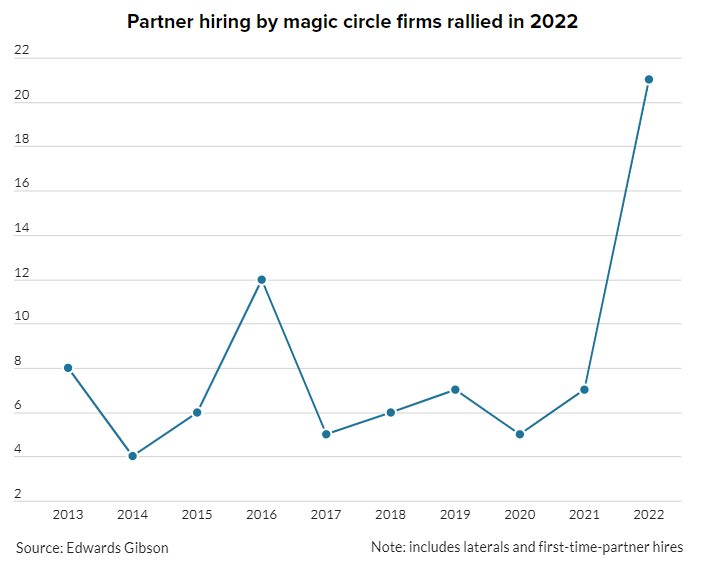 *We consider Slaughter & May as a magic circle firm, but Horizon has not included them for the purposes of the article.
The Lawyer article suggests this strike back by the magic circle against their rivals may be the start of a sustained offensive – if so it will be interesting to see if it continues in 2023!
Read the full Horizon article here (subscription required).
Find our 72nd Partner moves publication here.