'Law firms in London are betting private equity will come roaring back' - article by Financial News shines spotlight on the 77th edition of Edwards Gibson Partner Moves
November 2023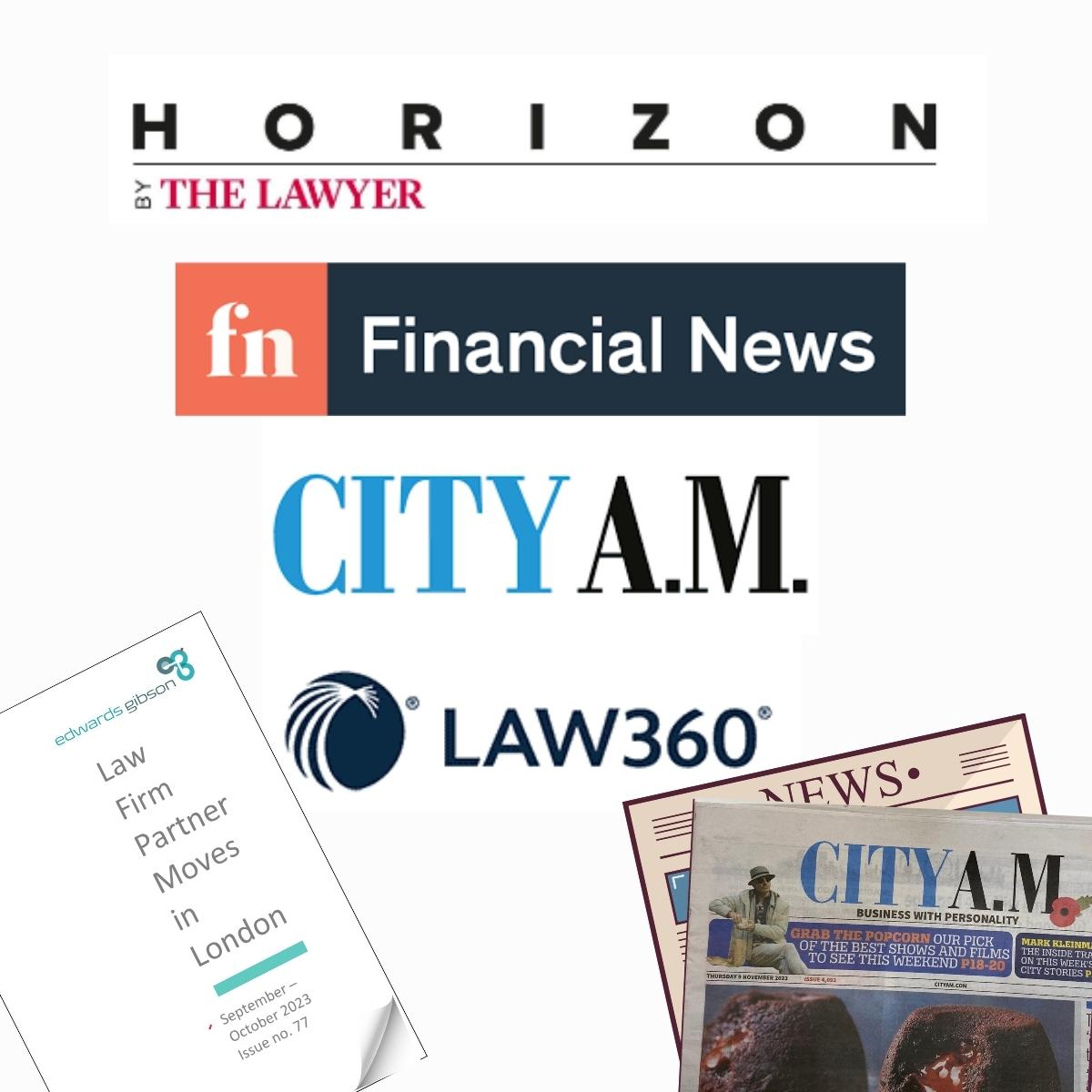 Our 77th edition of Law Firm Partner Moves in London featured in four publications this week: The Lawyer 's Horizon article, 'Associates' loyalty is wearing thin' by Katy Dowell; City AM's article, 'Doom and gloom starting to clear for the London legal hiring market' by Maria Ward-Brennan; Law360's article, 'Axiom Ince Collapse Contributes To Boom In Partner Moves' by Ashish Sareen and Financial News' article, 'Law firms in London are betting private equity will come roaring back' by James Booth.

The Lawyer focused on the number of associate-to-partner hires in the City, highlighting that the September to October 2023 period saw a 34% increase on the 10-year average for the same period. Director Scott Gibson provided Dowell with further research on vertical hires (non-partner hires into partnership) showing that whilst in 2020, 22% of the total partner hires recorded by us were vertical, by 2022, this had increased to 28%. The article states that firms are increasingly willing to "shop [for partners] in the senior associate talent pool".

City A.M. considered the unexpected increase in partner moves in the current economic climate and downplayed the collapse of Axiom Ince in inflating the numbers, noting that moves from the firm "only accounted for 15 percent of the total". Gibson observed to Ward-Brennan that several law firms that rarely hire lateral partners in London – in particular the Magic Circle – were active during the period.

Law360 focused on how both the Axiom Ince debacle and the internecine warfare between Paul, Weiss, Rifkind, Wharton & Garrison LLP and Kirkland & Ellis partly boosted the number of hires. Sareen noted that even without the 17 Axiom Ince moves, there were 100 hires involving other law firms, the second highest for the same period on record.

Finally, Financial News referred to the elevated hiring noted in both our August and October publications as evidence that law firms were investing heavily in both private equity and leverage finance on the assumption that the vapid private equity market will rekindle.

Click here to read The Lawyer article.

Click here.to read the City A.M. article.

Click here to read the Law360 article.

Click here to read the Financial News article.

In case you missed it, read our full 77th edition of Law Firm Partner Moves in London – for more than a decade, the publication of record for the London legal market – click here.