Download the full Partner Moves Issue here >>
Welcome to the latest round up of lateral partner moves in the legal market from Edwards Gibson where we look back at announced partner-level recruitment activity in London over the past two months and give you a 'who's moved where' update.
This edition concludes our Lateral Partner Moves for 2017 and we have included some facts and figures below comparing the year's partner-level recruitment activity with that of 2016.

A summary of 2017
2017 saw a total of 493 announced lateral partner moves which, staggeringly, is exactly the same number as we recorded in 2016. By way of calibration, these figures were up more than a quarter on the 392 we recorded in 2015.
Both the 2017 and 2016 figures were elevated largely due to the distorting impact arising from the insolvent collapse of King & Wood Mallesons' (KWM) European Verein. Indeed, the first two months of 2017, like the last two months of 2016, were dominated by announcements of KWM émigrés emerging at new homes. Nevertheless, throughout the year the number of recorded moves from KWM in 2017 was actually 42% lower than in 2016 because the bulk of lateral partner moves from KWM had already been announced in 2016.
Even without the distortion of KWM, the London lateral market appears to be experiencing record activity - stripping out KWM partners entirely from the 2016 and 2017 statistics, and comparing them to 2015, the number of moves was up by 12% and 18% respectively. Indeed, even disregarding the moves from KWM, 2017 saw the highest number of lateral moves since our records began in 2010.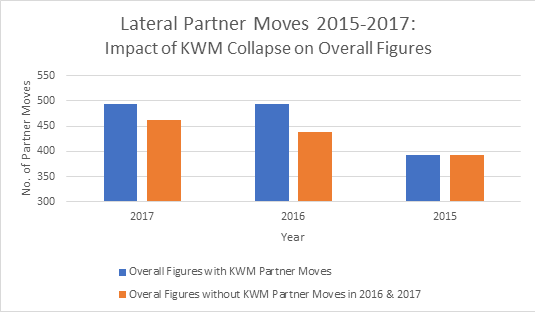 Top 5 recruiters of lateral partners in London in 2017
Reed Smith - 13 partners (3 from KWM);
Simmons & Simmons - 12 partners (3 from KWM);
DAC Beachcroft - 11 partners (1 from KWM);
Clyde & Co - 10 partners(0 from KWM);
Fieldfisher & Bird & Bird - 9 partners each (Fieldfisher took 2 partners from KWM).
Other fun facts from 2017:
There were a total of 123 female partner moves (25% of the total);
19% of all the moves recorded (94 lawyers) moved from non-partner roles into partnership – the highest proportion we have ever recorded;
2017 saw arch conservative blue-blood Slaughter and May make its first ever London lateral hire since its founding in 1889 (Daniel Schaffer from Herbert Smith Freehills who joined as head of Slaughter's Pensions department).
November-December 2017
This bi-monthly round-up contains 60 lateral partner moves - 20% of which were in the insurance sector, buoyed, in part, by the pending closure of insurance heavy US law firm Sedgwick LLP (which is due to cease trading worldwide in January 2018).
The most acquisitive firm in this edition, with 4 lateral hires, was DAC Beachcroft followed by Gibson Dunn & Crutcher, Clyde & Co, and Kennedys which nabbed 3 partners a-piece.
The single highest profile hire in this edition was almost certainly Kirkland & Ellis' acquisition of Freshfields private equity star David Higgins on reportedly eye-watering compensation. Yet more evidence, if any was needed, of the buying power of elite US law firms over the UK's magic circle.
Please do not hesitate to contact us if you would like to discuss this article or any other aspect of the market in more depth.
Scott Gibson, Director scott.gibson@edwardsgibson.com
Sloane Poulton, Director sloane.poulton@edwardsgibson.com
Mark Coates, Senior Consultant mark.coates@edwardsgibson.com

Please click here to understand our methodology for compiling Partner Moves
Download the full Partner Moves Issue here >>
If you would like to subscribe to our Partner Moves Newsletter, email us at support@edwardsgibson.com