Download the full Partner Moves Issue here >>
Welcome to the 76th edition of Law Firm Partner Moves in London, from the specialist partner team at Edwards Gibson, where we look back at announced partner-level recruitment activity in London over the past two months and give you a 'who's moved where' update.
Despite fervent assertions by some legal publications that the law firm partner market has dampened, the statistics simply do not support this; this bi-monthly round-up contains 65 partner moves 8% up on the 60 we saw for the same period in 2022 (and 15% and 22% more than the cumulative five-year and ten-year averages for the same period – 55 and 51 respectively).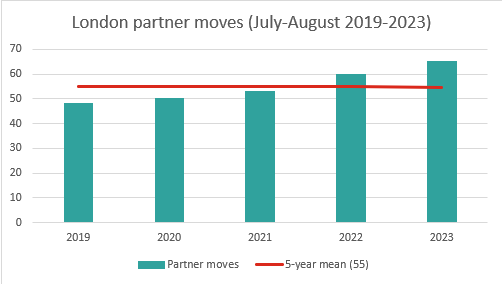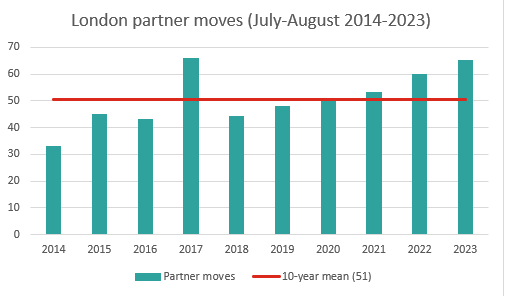 Dominating the recruitment news cycle in August were the simultaneous raids by Kirkland & Ellis and Paul Weiss on each other (see below). However, 5 firms hired two partner teams: Fieldfisher (competition litigation from Constantine Cannon); Gateley Legal (consumer group litigation from Slater & Gordon); Gibson Dunn (projects and infrastructure from Shearman & Sterling); Hunton Andrews Kurth (energy from Clyde & Co) and Latham & Watkins (private funds from Sidley Austin).
Top partner recruiters in London July – August 2023
| | | |
| --- | --- | --- |
| Kirkland & Ellis | 5 | (3 laterals) |
| Paul Weiss* | 4 | (4 laterals) |
| Gateley Legal | 3 | (3 laterals) |
*Confirmed moves only
In addition, eleven firms hired two partners apiece: Ashurst, CMS, Fieldfisher, Hunton Andrews Kurth, Gibson Dunn, JMW Solicitors, Kennedys, Latham & Watkins, Norton Rose, Stewarts and TLT.
Private equity internecine warfare as Kirkland & Ellis and Paul Weiss exchange blows
When Chicago spawned Kirkland & Ellis, announced in early August that it was hiring a four-partner team from the London office of elite New York rival Paul Weiss, it looked like yet another recruitment coup by BigLaw's apex predator. Thanks to its incredibly strong ties to that dynamo of Biglaw (private equity), the past decade and a half has seen Illinois' finest overtake its White Shoe rivals who would once have regarded it as a poor cousin. Today Kirkland & Ellis is not only the second most profitable firm in BigLaw, it has become the World's highest grossing law firm.
Arriving at Kirkland & Ellis is a quartet of New York qualified private equity M&A lawyers comprising Paul Weiss' London office head Alvaro Membrillera, alongside lateral Adam Wollstein and two associates - Anna Pollak and Pelin Demirdere Eski – who are elevated to partnership at their new firm. Having only just lost a two-partner team, corporate duo Ramy J. Wahbeh and Kaisa Kuusk, to Sidley Austin in June – to the outside world, things did not look too peachy in London for the seemingly hapless Paul Weiss.
There were rumours (there are always rumours!), but in mid-August it was confirmed that, in a bizarre twist, Kirkland's triumph was more than offset by the simultaneous loss of a, likely, much larger London and US team to the very same New York rival! Some reports now put the number of laterals departing Kirkland for Paul Weiss at more than a dozen.
Set to join the White Shoe firm are two English law leveraged finance laterals - Neel Sachdev and Kanesh Balasubramaniam; and two US qualified capital markets specialists - Deirdre Jones and Matthew Merkle. Sachdev, who is perhaps the biggest name in European leveraged finance, together with Balasubramaniam, advise on multi-jurisdictional leveraged buyouts and other complex debt financing transactions. California qualified Jones, and New York qualified Merkle, primarily advise issuers, sponsors and underwriters on high yield debt and initial public offerings. In addition, it has been widely reported (but not confirmed) that private equity M&A lateral Roger Johnson, who abruptly decamped from Kirkland & Ellis in August, is also set to join the New York firm. It is highly probable that these moves are linked to another (reportedly) multi-partner raid on Kirkland & Ellis by Paul Weiss in the US – led by Los-Angeles-based debt finance star Eric Wedel.

The Paul Weiss swoop is significant, not just because of the simultaneous raid in the US and UK, nor the undoubted calibre of the dramatis personae, but because it marks the launch of an English law offering by one of the top-five most profitable firms in America. Over the past 20 years, new US entrants to the London legal market have been a dime-a-dozen and their arrival, and eventual move into English law, has already dramatically altered the UK legal services market. As such it is hard to get too excited about a "re-launch", no matter how shiny the name, but Paul Weiss has the financial firepower, client base, experience of running overseas offices and, importantly, the scale to make a significant impact in London. By contrast, fellow New York patrician Cravath, Swaine & Moore which launched an English law practice earlier this year to much fanfare with the hire of a two-partner leveraged finance team, has fewer than 100 partners vs Paul Weiss' c. 175. To calibrate for European readers, Paul Weiss has both more partners and is a good bit more profitable than, say, Cleary Gottlieb Steen & Hamilton.
Whilst Paul Weiss looks to have bested Kirkland & Ellis in this exchange, competitor schadenfreude, on the part of the very many UK and US law firms which have themselves fallen victim to Kirkland's predatory attentions, is probably misplaced. It is not the end, it is not even the beginning of the end - Kirkland & Ellis has lost good people before, and doubtless it will again, but there is a reason why it became the World's highest grossing law firm.
For Paul Weiss, the move is truly significant and whilst we suspect that over time, the New York patrician will make more significant hires in London, it is unlikely that we will see European expansion on the scale of Latham & Watkins or Kirkland & Ellis anytime soon. Unlike those two firms, Paul Weiss is an all-equity partnership (albeit modified lockstep); a "purer" form of partnership which, whilst it conveys many, many advantages, makes it harder to expand the partnership and much harder to retain senior non-partner talent.
The market right now is also less forgiving for all private equity led law firm growth. Despite assertions from optimistic fund managers about billion-dollar piles of "dry powder" just waiting to be deployed, elevated global interest rates have ended that more than decade long bull-run where money was the cheapest it has ever been in the history of humanity. Because private equity relies on inexpensive debt, it has certainly been less frothy with leveraged finance, at times, all but dead on both sides of the Atlantic.
Worse, in August 2023 the SEC announced onerous new regulations on the $25 tn private funds industry. Whilst the new rules are not as vexatious as many in the industry feared, they nevertheless substantially increase the regulatory and compliance burden on private fund advisers which will inevitably drag on the industry. Doubtless, as with any major rule change, BigLaw will profit from the regulatory, litigation and (further) lobbying opportunities which will inevitably arise – at least in the short term. Nevertheless, even if stateside private equity focused US firms do get a fillip, it is doubtful that their transactionally focused London satellites will.
Constructive destruction – New York law firm closes its London office
Whilst this edition noisily proclaims the birth of an English law offering by Paul Weiss, buried away deep in the small print is the demise of another; fellow New Yorker Constantine Cannon which, after a steady stream of lateral departures, culminating in the defection of a competition litigation duo to Fieldfisher, finally shuts up shop in London.
Also of note in this edition
29% of all hires (19) were female
15 lawyers (23%) were elevated to partnership from other law firms
5 were from in-house: Gowling WLG (from Pemberton Asset Management); Norton Rose Fulbright (from BNP Paribas); Pinsent Masons (from Liberty Specialty Markets); Simpson Thacher & Bartlett (from Blackstone) and TLT Solicitors (from CIBC Capital Markets).
Please do not hesitate to contact us if you would like to discuss this article or any other aspect of the market in more depth.
Scott Gibson, Director scott.gibson@edwardsgibson.com or +44 (0)7788 454 080
Sloane Poulton, Director sloane.poulton@edwardsgibson.com or +44 (0)7967 603 402
Please click here to understand our methodology for compiling Partner Moves
Download the full Partner Moves Issue here >>
If you would like to subscribe to our Partner Moves Newsletter, email us at support@edwardsgibson.com